Who We Are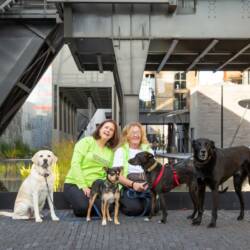 4 Paws Walking is the fruition of the lifelong dreams of founder Dorthe Brandt. 4 Paws Walking was founded with the intent of relieving pet owners of the stress and guilt they feel about leaving their pets alone at home, as well as giving those pets an exciting daily outing to look forward to and a "home away from home" when their families are away for an extended period of time.
Get to know Dorthe Brandt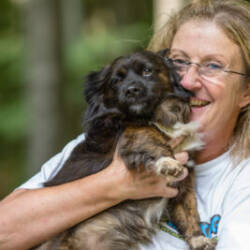 Dorthe Brandt originally dreamed of becoming a veterinarian.  But life threw a curve ball – as it often does – and she found herself, instead, working in the banking industry for 30 years.  Volunteering in an animal shelter renewed this dream for Dorthe.
Working with the dogs – walking, training, rehabilitating dogs from abusive homes – Dorthe's passion and gifts for working with animals became undeniable, and so she decided to pursue the career avenue that eluded her all those years ago and make the dream of working with animals a reality.
Dorthe worked for 18 months at as a volunteer at the Gaspericher Deierenazyl.  She is a licensed dog walker and is currently studying at The British College of Canine Studies to obtain Animal First Aid and Dog Behaviorist Certificates.