Who We Are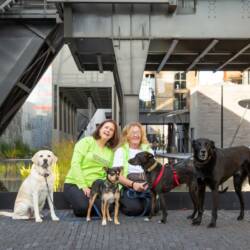 4 Paws Walking is the fruition of the lifelong dreams of founder Dorthe Brandt. 4 Paws Walking was founded with the intent of relieving pet owners of the stress and guilt they feel about leaving their pets alone at home, as well as giving those pets an exciting daily outing to look forward to and a "home away from home" when their families are away for an extended period of time.
Get to know Dorthe Brandt & Melanie Reid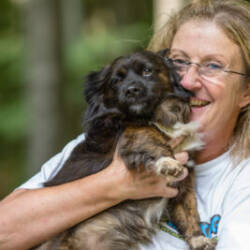 Dorthe Brandt originally dreamed of becoming a veterinarian.  But life threw a curve ball – as it often does – and she found herself, instead, working in the banking industry for 30 years.  Volunteering in an animal shelter renewed this dream for Dorthe.
Working with the dogs – walking, training, rehabilitating dogs from abusive homes – Dorthe's passion and gifts for working with animals became undeniable, and so she decided to pursue the career avenue that eluded her all those years ago and make the dream of working with animals a reality.
Dorthe worked for 18 months at as a volunteer at the Gaspericher Deierenazyl.  She is a licensed dog walker and is currently studying at The British College of Canine Studies to obtain Animal First Aid and Dog Behaviorist Certificates.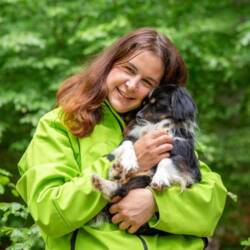 Melanie has maintained a special place in her big, giant heart for dogs since childhood.  After meeting the four-legged friend of a primary school mate, she used her childlike skills of persuasion (nagging, pouting, puppy dog eyes and "pretty pleases with cherries on top") to convince her parents that adding a dog to the family dynamic would make their life complete.  For the next 15 years, her Westie, Roslyn Kintyre – aka Candy – would prove young Melanie right, bringing the family much joy, laughter and love, and leaving her with the deep-seated belief that life simply isn't life without a four-legged companion to share it with.
Eventually, Melanie went on to work in a corporate environment, specializing in marketing and public relations, with schedule demands that were hardly conducive to parenting a pup.  So, for nearly 11 years, she forged through life sans a furry companion (sad face).  But her love of dogs never waned, and in 2015, when Melanie decided to pursue her entrepreneurial ambitions in favour of the corporate grind, she was able to bring puppy love (quite literally) back into her life.  Melanie adopted a rescue puppy – Louise – a Fox Terrier from Malta who's brought a much-needed dose of silliness and joy back into her life; the same puppy love she discovered as a child, and a confirmation that, indeed, life is more worthwhile with a furry friend by your side.
And then an even more magical thing happened…
Melanie was looking for a dog sitter for Lou, when she was introduced to Dorthe Brandt of 4 Paws Walking through a friend of a friend (as often happens in our darling little community of Luxembourg).  The two got on famously from the start, and Lou LOVES being in the company of "The Brady Bunch" for walks and play time.
As is the case with most start-out entrepreneurs, Melanie happened to be looking for some part-time work outside her own business ventures.  The stars aligned, and now she is honoured to be a part of the 4 Paws Walking gang, and blessed with the opportunity to spend the best parts of her days playing, cuddling, and adventuring through the forest with her new 4-legged family at 4 Paws Walking.